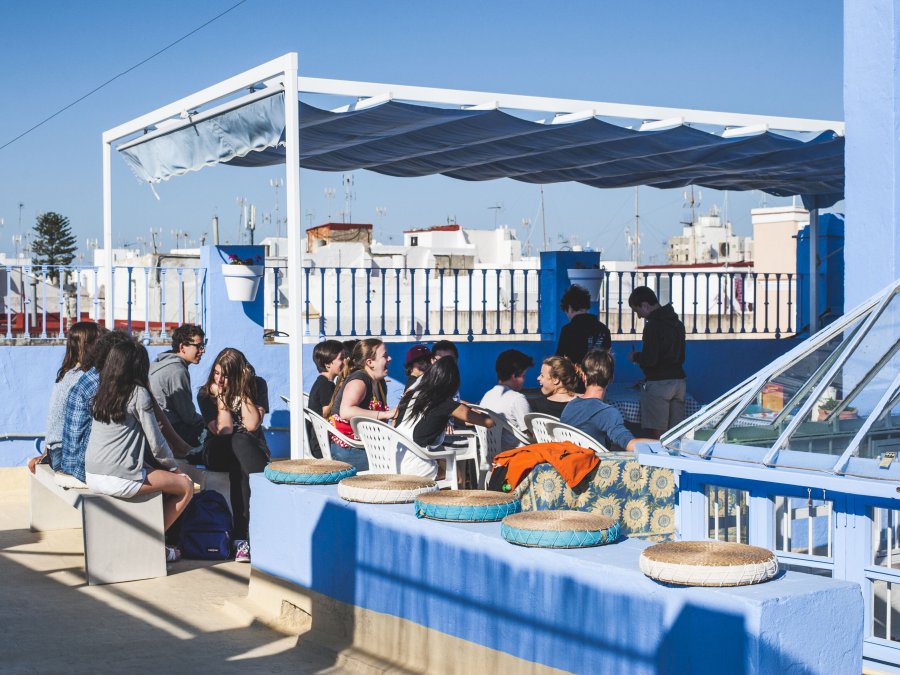 Spanish Courses in Cádiz
Welcome to Cádiz! Immerse yourself in the captivating beauty and rich heritage of this enchanting city while mastering a new language! Our carefully-selected Spanish partner schools offer a unique blend of language instruction, cultural exploration, and unforgettable adventures.
Nestled on the stunning Costa de la Luz, Cádiz is a city steeped in history and overflowing with charm. From its ancient landmarks and magnificent architecture to its pristine beaches and vibrant city center, Cádiz provides a tapestry of experiences for language learners. Our esteemed partner language schools offer courses tailored to your specific needs and proficiency level. Whether you're a novice delving into the wonders of Spanish for the first time or an advanced learner striving for fluency, our dedicated and passionate instructors will accompany you on your language learning journey. The immersive nature of our programmes extends beyond the classroom, as we believe true language acquisition is nurtured through cultural immersion. That's why our courses incorporate interactive activities, local excursions, and authentic experiences, allowing you to practice your Spanish skills in real-life contexts.
Join us and embark on a transformative journey of language, culture, and personal growth in the city that served as the port to many expeditions to the New World, including those of Christopher Columbus. ¡Vamos a aprender español en Cádiz!
Spanish course packages in Cadiz
With so much choice, picking a Spanish course is never easy. Which is why we have created some package deals to help you. No hidden costs, just the full price for a Spanish course at Cadiz with all fees included!
Cadiz: A Journey of Language and Discovery
The Cadiz old town is located on a small peninsula and is surrounded by the Atlantic ocean. From here, many a explorer set off in search of the New World, hoping to return with exotic riches. You can almost feel this in the charming and picturesque neighbourhood that exudes history and character. A perfect backdrop for a language learning holiday! Our dedicated team is here to ensure your stay is not only educational but also enjoyable, providing you with a supportive and welcoming environment throughout your course. Whether you're seeking to enhance your career prospects, connect with locals during your travels, or simply indulge your passion for language and culture, our Spanish courses in Cadiz offer an unforgettable experience!
Read our latest blog posts
Guide to Learning Spanish in Cadiz
Cadiz, a city steeped in culture, history, and culinary delights, welcomes you with open arms! Here are some tips to make the most of your unforgettable stay in this captivating city:
1. Indulge in the flavours of Cadiz
Known for its gastronomic prowess, Cadiz offers a delectable culinary experience. Don't miss the opportunity to explore the local cuisine. Stroll along the charming streets and discover traditional tapas bars where you can savour mouthwatering dishes. From the freshest seafood caught from the Atlantic to delicious regional specialties, Cadiz's culinary scene is sure to tantalize your tastebuds. Embrace the lively atmosphere and enjoy a tapas crawl, relishing each bite as you soak up the city's vibrant culture.
2. Discover Cadiz's historical treasures
The city's rich history means that exploring its historical sites is a must. Begin your journey by visiting the iconic Cadiz Cathedral, an architectural masterpiece that showcases the city's heritage. Stroll through the labyrinth that is the Old Town - a living museum in itself - admiring the elegant buildings and vibrant squares. Dive into the city's past at the Torre Tavira, where you can enjoy panoramic views and learn about Cadiz's maritime history.
3. Marvel at the breathtaking views
Cadiz offers plenty of awe-inspiring vistas: Head to the Castillo de San Sebastián, a fortress located at the end of a scenic causeway, which offers breathtaking views of the ocean and the city. Another splendid vantage point is the Castillo de Santa Catalina, where you can enjoy panoramic views of Cadiz's coastline and the vast expanse of the Atlantic. Don't forget to enjoy a mesmerising sunset from Playa de la Caleta, a picturesque beach nestled between two historic castles. Let the beauty of Cadiz unfold before your eyes from these remarkable viewpoints!